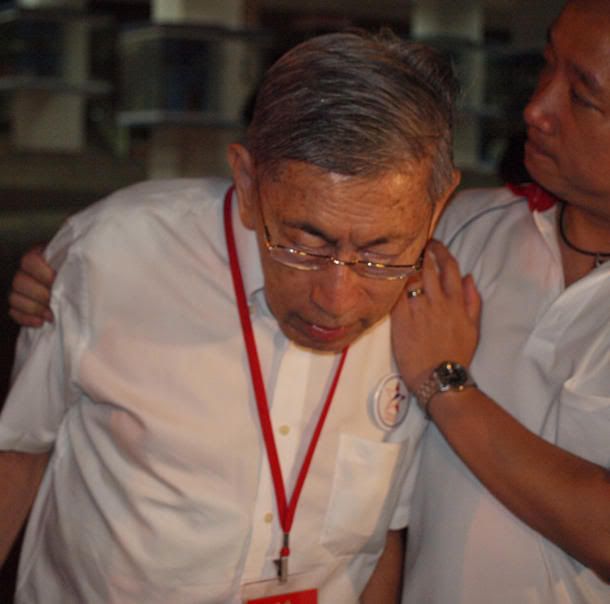 ~ Chiam See Tong's 27-year-long parliamentary career comes to an end
It was a risky gamble that was expected by some to pay off, but didn't.
Singapore People's Party secretary-general Chiam See Tong, who chose to leave his stronghold ward Potong Pasir single member constituency (SMC) to lead a five-member team to contest in Bishan-Toa Payoh GRC, lost to the People's Action Party team led by Deputy Prime Minister Wong Kan Seng in the General Election on Saturday.
The defeat marked not only the failure of the SPP to capture a GRC, but also the end to Chiam's 27-year-era as a member of parliament (MP).
He was first elected into parliament in 1984 through his first win at Potong Pasir, and he subsequently stood for and won five consecutive General Elections, demonstrating time and time again that he had the strong support and loyalty of residents in the single ward.
His supporters' faith in him, however, could not be extended effectively towards his wife, Lina Chiam, who stood in Potong Pasir in his place after his decision to try "to spread love and compassion" to the Bishan-Toa Payoh community.
When Chiam took his first steps out of Deyi Secondary School, the principal counting centre for Bishan-Toa Payoh GRC where he and his team were awaiting the result of the election, he was particularly hesitant in his answers.
After not saying anything for more than a minute, Chiam addressed Bishan-Toa Payoh residents, thanking the 43 percent of the voters there who picked him and his party.
Sources close to him said, however, that he felt "shattered" and "miserable" from the loss, and SPP supporters present teared and cried upon witnessing his long pauses between answers.
He told Yahoo! Singapore, "Thank you, residents of Bishan-Toa Payoh, for voting for us... Getting 43 percent is very good."
His wife sat through a very tight vote count.
Potong Pasir was the last constituency to have its result announced early on Sunday morning, and Mrs Chiam eventually lost to Sitoh Yih Pin by just 114 votes, pending another 62 overseas votes that have not arrived.
"I take it in my stride," she told reporters after she and the rest of the SPP candidates returned together to a coffee shop in Potong Pasir, where her supporters and residents were waiting.
"It was a tough fight, and I think I did very well, considering it is my first time entering politics," she added.
"The supporters waited all the way til 4 am just to greet, support and console me, and to ask me to come and fight again... I still feel like a winner."
Bishan-Toa Payoh GRC candidate Benjamin Pwee said winning 43 per cent of votes "is a good showing, considering what we've achieved in one short month... it's amazing, really."
"I congratulate Mr Wong and his team for having won, and I respect the decision of voters, but I am thankful for the 43 percent of residents who did vote for us, and five years later, we will come again," he added.
Pwee also saw the loss as an opportunity to develop deeper relationships with Bishan-Toa Payoh residents, and said that in spite of losing, he and his team will continue to work the ground towards this.
~ Potong Pasir residents and Chiam supporter didn't get the result they wished for.
SADNESS, ANGER
Ardent supporters of SPP candidates in both Bishan-Toa Payoh and Potong Pasir were left reeling in a mixture of shock, anger and disappointment after the official result was announced.
A woman from Bishan-Toa Payoh who had turned up at Deyi Secondary School to hear the result announced first-hand broke down at the news.
Her husband, Joseph De Bruin, 38, said, "I was really shocked. My wife and I had a good feeling that the SPP would win... but it didn't turn out that way."
"He will always be in our hearts," he added.
Another resident, Ivy Qieu, 26, said that her whole family had voted for the SPP in Bishan-Toa Payoh and she expressed her disappointment at the result.
"I really was hoping they would win... so many young people came up to me telling me they wanted to vote for him but couldn't because they were not of age -- I find it so unfair," she said.
Back at Potong Pasir, residents and supporters who had assembled at a previously-agreed-upon coffee shop exploded into loud, angry calls for recounts, re-votes, and shouts of "Kelong!" as well as cheers of Mr and Mrs Chiam's names, upon the announcement of the official final count of the vote that revealed Sitoh Yih Pin as the winner.
Many residents shared with Yahoo! Singapore that they felt very angry for him and very sad for Mrs Chiam, and that their enthusiastic mood had all but fizzled out.
Said Potong Pasir resident Jed Senthil, 25, a tutor, "She (Mrs Chiam) has put on a good fight, and she's just started -- I hope she'll come back again."
Another resident, Daniel Tay, 31, said he was bit upset about the outcome of the election, but felt that Sitoh Yih Pin did well.
"He had the courage to try again, and was rewarded," he said.
"I hope that our voices will still be heard in parliament, and that upgrading will actually happen," administrative officer Stella Tay, 24, added.
On the victorious Sitoh, Senthil said, "I hope he will fulfill his promises to us. Our main purpose was to vote in a town councillor, so I hope he will take care of us."
By : Jeanette Tan