Be your own BOSS and open your very own 7-11 store..then you can have Animal Kaiser machine place outside your store..and the best part is that you can have the great opportunity to study all the card deck of Animla Kaiser...and learn all the SECRETS..
Another cheaper option is to work either Part time /full time at any of the 7-11 store that have Animal Kaiser machine. Because there is a need to change the card deck once it run out ...so the store must keep some stock of the cards. Now its easy to study each card deck (A,B,C,D) and know all their card palcement sequence !! All these checks can be done within 4 walls inside the small 7-11 store ...WOW WOW !!
Who say getting a GOLD card is tough ? (its really easy if you know the card placement)
Blog Master:
Note:The above is just illustration example only. We does not indicate that every 7-11 staffs peek or shuffle the Animal Kaiser card deck (In fact, they are not allowed to do so !)
Anyway,there is a 7-eleven franchise road show at marina square on 6 September 2009.
Many people ( both young and old)are there inquiring.
Basically , these are the main condition:
-initial investment can range from 50k to over 200k, depending on takeover store location.
-have to attend 3mths training on store management.
However, base on some feedback, Cheers store francise is cheaper than 7-eleven...
~~~~~~~~~~~~~~~~~~~~~~~~~~~~~~~~~~~~~~~~~~~~~~~~~~~~~~~~~~~~~~~~~~~~~~~~~~~~~~~~~
From the news report,these are the information about Animal kaiser @ 7-11 stores
* Currently, there are about 30 stores(Singapore) with Animal Kaiser machines
* Children wearing school uniform are not allowed to play (they had paste a notice)
* There are no chair provided outside
* $2 per game play (Required 50 cent coin x4)
* Operating time of game play is from 0700hrs to 2200hrs
( not 24hrs ? ,can someone confirm the timing , pls)
You will be surprise that sometimes there is also big crowd at these store
This picture was taken from Sengkang 7-11 store..see how happy they are in the game !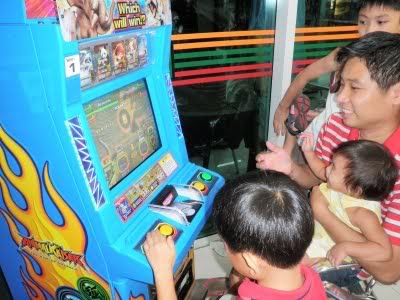 Picture source:http://clarencevincy.blogspot.com/2009/09/animal-kaiser.html