If the outcome for this General Election was based purely on rally attendances, the Opposition would win hands down.
An estimated 2,500 people, many of whom were hardcore party supporters, turned up for the People's Action Party's (PAP) first rally for the 2011 General Election at the field beside Buangkok MRT station on Thursday evening.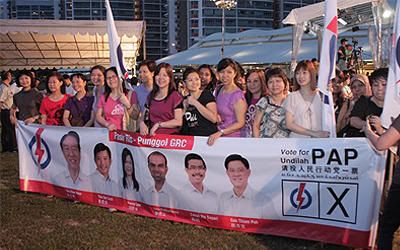 That figure pales in comparison to the rallies for the Worker's Party in Hougang (estimated 20,000), in Geylang East for National Solidarity Party (estimated 5,000), in Clementi stadium for Reform Party (estimated 4,000) and near Commonwealth MRT for Singapore Democratic Party (estimated 10,000).
Nicole Seah at National Solidarity Patry's first rally
Over 15,000 people who turned up at the Workers' Party (WP) rally on Thursday night went home impressed after listening to Chen Show Mao's maiden speech.
This is the 1st Workers' Party rally in Hougang, taken at the end of the rally. The open field is totally fill up, which you will never get to see in our main media. The crowd keep streaming in upto the road side, across the road, HDB flat common balcony and even muti story carpark. Simply amazing!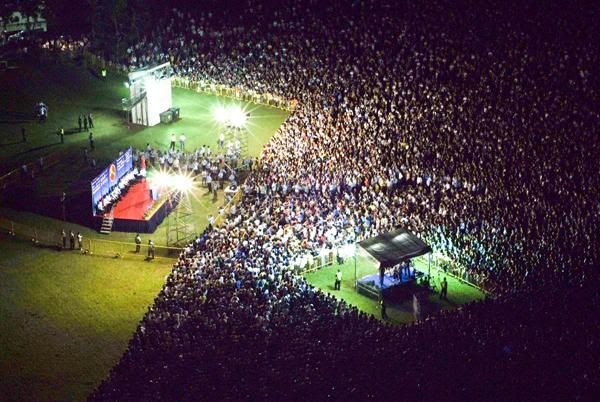 See the Video for huge crowd turn out :
Sylvia Lim at The Workers' Party's first rally
Worker's Party Rally at Hougang [28 Apr 11] - Mr Low's Speech in English :
Workers Party Rally on 28th April 2011 - The Last Moments of the Rally
I was at the hougang site and boy was it breathtaking! It was like a scene from the lord of the rings. Across the plateau, there were people everywhere. We were already more than 20,000 strong, yet people continued to pour in from every direction! It was like the Elves, the Dwarfs and Men all coming for one cause – to destroy Sauron! The morale was fantastic! If we were to go to war right now, nobody can stop us! Why was the turnout so fantastic, that probably WP did not expect too?
~ Darkest Knight
Video credit to :
TODAYdigital
theonlinecitizen
appleorangejuice