Congratulations to the 2 winners from Singapore!
Each of them had won 3 DVDs + a mysterous jap promotion card.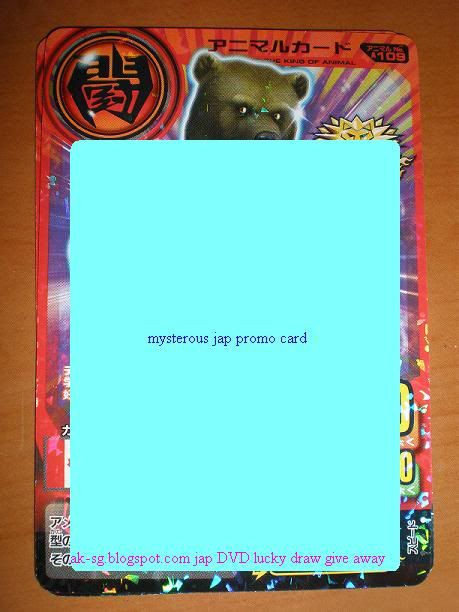 We had sent out the prizes today
Winner (1) :
Hello again,
I think this has been my second entry to your comp. already (1st was TZ voucher) XD...
Actually, im trying to enter for the random jap promo card and not the DVDs... i dont watch anime ...
So yeah. What do i like about your blog? Well, ive been a reader since 2009 and thats when i started AK so naturally i was a noob and did not know much about AK, let alone jap vers. I found your blog through zoneX forum and there i found many intresting updates and facts about the Japanese as well as English AK vers. Your blog also has an extensive range of image galleries for all kinds of AK cards, and merchandise. Again, which i would not had know off if i did not come across your blog. You also blog about no-ak releated subjects, and (sometimes :D) singapore current affairs, which also makes your blog interesting to read too. Oh, and it is also regularly updated. Now you also have been blogging about intresting posts about AK on facebook... and it is quite entertaining seeing some of the d̶u̶m̶b̶ comments written by some people in facebook XD.
On a whole, your blog is the one i check most frequently (pertaining to AK), followed by "http://www.animal-kaiser.blogspot.com/".
Keep up with the good blog (and hope i get a promo card! :D)
~ Gavin Lim
Prizes won
:
* Guyver (1 disc)
* Super Robot Wars (1 disc)
* Gravion (1 disc)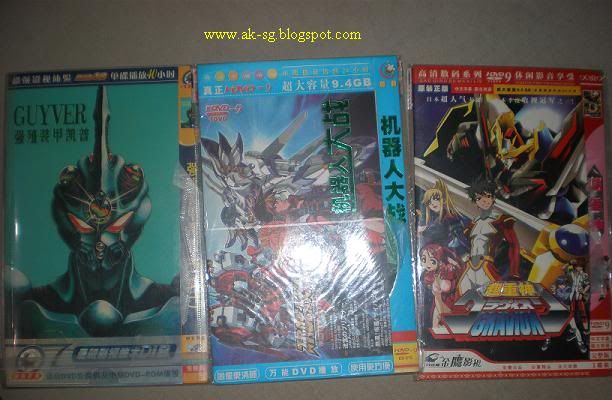 Winner (2) :
What i like about your blog : Your blog provide us information about Animal Kaiser in case i am not aware of any events like AK tournament at TZ.
~ Brendan Neo Jia Wei
Prizes won
:
* Yin -Yang Big war (1 disc)
* Fighter jet Snow Wind (1 disc)
* Seed (1 disc)