It was a long wait but Singapore fans finally got to witness Singapore's return to the Malaysia Cup after a 17—year absence.
~ Lions fans queuing to enter the stadium before the match against Kelantan! Are you there?
The LionsXII kicked off the Malaysia Super League campaign against Kelantan on Tuesday evening at Jalan Besar Stadium, but much to the disappointment of the local fans, the Malaysian side won 2—1.
It was a sea of red at the stadium as Singapore football fans packed the 7,500—capacity stadium.
~ Can't wait for the match to start! Enjoy, everyone!
On the field, the action got off to an explosive start, and Singapore could have gone ahead had Hariss Harun's header ended at the back of the net.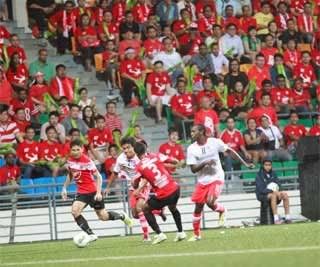 ~ LionsXII players vie for the ball against Kelantan players during a Malaysia Super League match at Jalan Besar Stadium.
After repeated attempts, defender Baihakki Khaizan's glancing header from a free kick gave the Lions the first goal on the half hour mark.
Just before the break, the visitors equalised through Norshahrul Idlan Talaha, to make it 1—1.
Kelantan then scored the winning goal through a penalty 10 minutes before full—time.