Workers' Party fields their "A-team"in Aljunied, led by party chief Low Thia Khiang.
Expect a big fight between the ruling People's Action Party (PAP) and opposition parties come Polling Day on 7 May.
Based on the papers filed at nomination centres on Wednesday, 82 out of 87 Parliamentary seats will be up for grabs with only the five-seat Tanjong Pagar group representation constituency (GRC) the only ward to see no contest.
The PAP team led by Minister Mentor Lee Kuan Yew, who has represented Tanjong Pagar GRC for 56 years, have been declared winners for the area.
A five-member team under the Singapore Democratic Alliance and led by Socialist Front chairman Ng Teck Siong attempted to file its candidacy t the Singapore Chinese Girls' School, but they were 35 seconds too late.
The hottest contest is expected to be at Aljunied GRC where Workers' Party chief and MP for Hougang single ward, Low Thia Khiang, and his team will face off against the PAP slate led by Foreign Minister George Yeo.
Low's team includes "star catch" Chen Show Mao, WP party chairman Sylvia Lim, Pritam Singh and Muhamad Faisal bin Abdul. Yeo's team comprises of Lim Hwee Hua, Zainul Abidin Rasheed, Cynthia Phua and Ong Ye Kung.
Ms Lim made no bones about her party's decision to field their best team at Aljunied GRC -- which was fiercely contested in 2006 -- and said, "We are determined to make a breakthrough in Aljunied GRC. We believe your lives will improve if PAP faces a strong challenge in Parliament....We trust you. You are our secret weapon."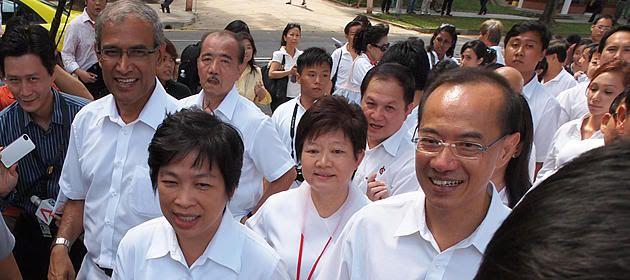 George Yeo's team has a tough contest in Aljunied against WP's "A-team"
Minister Yeo, on his part, expects a tough fight and said, "As expected, WP has fielded a strong team at Aljunied GRC... But we will fight hard to win every heart and mind of voters. We have detailed plans to develop Aljunied in the next five years. This will be a crucial contest...Give us your full support."
Another opposition MP to try his hand at a GRC is Singapore People's Party's Chiam See Tong, who has been the MP for Potong Pasir for several terms. He will be contesting the Bishan-Toa Payoh GRC against a PAP slate led by DPM Wong Kan Seng.
Chiam said, "Vote for SPP and the SPP will get the PAP to be more accountable... If you want the credit, you must be able to take the fall."
Even as opposition supporters chanted "Mas Selamat, Mas Selamat", Minister Wong, on his part said, "You know what we have done for the last five years. I know you will choose wisely."
All of the contests will be straight one-on-one fights except for Punggol East single member constituency (SMC), where there will be a three-cornered fight involving PAP's Michael Palmer, the WP's Lee Li Lian and the SDA's secretary general, Desmond Lim.
In Ang Mo Kio GRC, the bailiwick of Prime Minister Lee Hsien Loong, the Reform Party has fielded a team led by businessman Mansor Rahman.
PM Lee said he "welcomes the contest" and that the PAP candidates "will work as a team to win people's support".
Meanwhile, the Singapore Democratic Party led by Dr Vincent Wijeysingha said his team raised two specific points of objection against the PAP team for the Holland-Bukit Timah GRC, but these objections were over-ruled by the Assistant Returning Officer of the Elections Department.
Several of the opposition leaders called on voters to make the PAP "accountable".
Nicole Seah, the GE's youngest candidate, from the National Solidarity Party (NSP) team addressed the crowd: "Why is NSP in Marine Parade GRC, a constituency that has not been contested for 19 years? It's because residents, citizens of Singapore, you have a choice. You have a choice to hold the PAP accountable for its policies."
SPP's Lina Chiam, wife of Chiam See Tong, who will be running in Potong Pasir single ward, said: "For 27 years, you have supported my husband... I salute Potong Pasir residents: You have the unbeatable spirit, courage, bravery, pride and patriotism."
The PAP candidates reminded voters of what was at stake and the PAP's track record.
MCYS Minister Dr Vivian Balakrishnan at Greenridge Secondary School said: "This election is about our homes, our families, our children and our jobs... Majulah PAP, Majulah Singapura."
Over the next nine days until "Cooling Off" day on Friday May 6th, expect fierce election rhetoric and rallies from all sides to rage across the island as the battle for the hearts and minds of voters begins.
Singapore, how will you vote?
Photo credit:(Yahoo! photo)
Source:http://sg.news.yahoo.com/blogs/singaporescene/battle-royale-expected-aljunied-grc-between-pap-wp-085508973.html