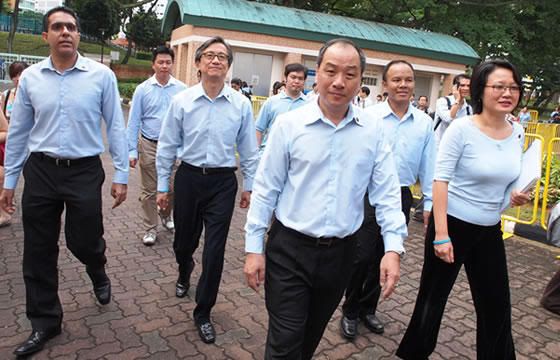 ~ WP chief arriving at the Nomination Centre with his team. (Yahoo! photo/ Henry Lim)
Workers' Party (WP) secretary-general Low Thia Khiang says his decision to move out from Hougang was made "quite long ago".
Speaking at a press conference after Nomination Day, Low revealed that he was even more determined to move to Aljunied after the gerrymandering of the People's Action Party (PAP), where changes were made to the electoral boundaries and some of their 29,000 supporters were moved to Ang Mo Kio and Pasir Ris-Punggol GRCs.
Low, who will join party chairman Sylvia Lim, Chen Show Mao, Pritam Singh and Mohd Faisal to form what is dubbed by many as the "A plus" team, will take on PAP's George Yeo, Lim Hwee Hua, Zainul Abidin Rasheed, Cynthia Phua and Ong Ye Kung.
He added that the decision to contest in Aljunied is a calculated risk and it is a risk they are taking "for Singapore".
Using a Mandarin proverb, Low said, "You know that there's a tiger in the mountain, and yet you still move there. So now we are taking this challenge and believe that voters will make the right choice."
WP's 'star catch' Chen added, "Winning a GRC is an important goal for the development of Singapore's political system and we are saying it in our actions."
~ The WP 'A+' team for Aljunied. (Yahoo! photo/Chia)
While admitting that it may be more logical for him to stay in Hougang, where he has 20 years of grassroots experience, Low acknowledged that the stakes are high but felt it that the time was right for WP to make the move.
"Hougang residents understand that I need to do this. The ground is sweet and in fact many people I know are waiting for me to cross over," he said.
Replacing Low at Hougang is party organising secretary Yaw Shin Leong.
Yaw, who led WP's 2006 "suicide squad" against Prime Minister Lee Hsien Loong in Ang Mo Kio GRC, dismissed claims that contesting against PAP candidate Desmond Choo was the reason for his deployment to the SMC.
The 35-year-old, who has been helping at Hougang's grassroots activities after joining the WP in 2001, said, "I don't think age is an issue. What is important is that you have the passion to serve the residents."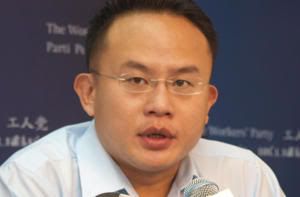 ~ Yaw Shin Leong will replace Low Thia Khiang at Hougang SMC. (Yahoo! photo/Chia)
Yaw added that he has confidence in Hougang's voters and reiterated that they are "the WP's secret weapon."
Low, also spoke highly of Yaw's connections on the ground. Yaw has been accompanying him on house visits in his ward for the past three years and, making him a familiar face in the estate.
"By now, every resident in the Hougang constituency would have Shin Leong's namecard," said Low.
Analysts told Yahoo! Singapore that they are not overly surprised by Low's decision to contest in Aljunied GRC.
Independent scholar Derek da Cunha explained, "He cannot ask Singaporeans to move out of their comfort zone and vote for credible opposition members if he himself does not move out of his own comfort zone, of Hougang."
"Now that he has led by example, he has the moral standing to make the appeal to Singaporeans to vote for his team. That will carry some weight with voters."
Senior fellow at the Institute of Southeast Asian Studies Terence Chong described it as a "make or break time for the WP".
"The stakes are high and one can fully understand Low's decision. He is explicitly asking Singaporeans to decide if they want more Opposition voices in Parliament or not," said Dr Chong.
He continued, "If the WP has a poor showing this GE it will not be because of lack of hard work or credible candidates but that the people prefer PAP dominance of Parliament. If so, so be it."
National University of Singapore professor Tan Ern Ser added, "I reckon he is 'putting his money where his mouth is'. The move is also important symbolically. It shows he is serious about wanting to win a GRC. I reckon he thinks the WP has the best chance of winning that GRC."
Prof Tan also predicted some factors that may contribute to voters' inclination to vote WP: dissatisfaction with PAP over the hot-button issues; desire to have checks and balances and alternative views from a stronger opposition presence in Parliament.
In a separate press conference, PM Lee commented on Low's decision to contest in Aljunied.
He said that it was Low's tactic to win a GRC. "I don't doubt he's entitled to want to win a GRC and he's trying to make an argument so that it sounds good and people will vote for him to win a GRC."
- additional reporting by Alicia Wong
source:http://sg.news.yahoo.com/blogs/singaporescene/why-m-contesting-aljunied-grc-wp-low-thia-161827571.html