I'll still be here after 7 May: SPP's Chiam See Tong
Singapore People's Party chief Chiam See Tong has promised Bishan-Toa Payoh GRC residents that he will still be around after Polling Day.
Speaking at the last rally on his 'home turf' at Potong Pasir, the party's secretary-general reiterated his message of previous speeches made over the past week, urging voters in Bishan-Toa Payoh and Potong Pasir to "be brave", "be courageous" and choose the opposition.
"The residents in Potong Pasir have voted for me, and I and all the residents have not been victimised. We are still around," he said.
"There is nothing for you to fear," he added, drawing huge applause from the estimated 4,000-strong crowd.
Chiam also referred to this Saturday's Polling Day as "D-day", explaining that it could stand for two possible words starting with the letter 'D'.
"If you vote for the opposition, you will be voting on 'democracy' day. But if you vote for the PAP (People's Action Party), it will be 'darkness' day," he said, to laughs and cheers from the crowd.
However, he cautioned that if voters chose the PAP, "Singapore will remain dark in a cloud of fear".
As witnessed in previous SPP rallies, support for Chiam continued to be emotional, enthusiastic and energetic, with residents shouting words of encouragement to him, such as "Chiam See Tong, be strong!" whenever he paused during his speech for extended periods.
Chiam concluded his rally speech with an appeal to the Bishan-Toa Payoh electorate to "show (their) support" for the SPP candidates come 7 May.
Echoing the shouts of a persistent supporter, he said: "Yes, don't worry, I will still be around after 7 May."
Chiam See Tong :
Meanwhile, Chiam's teammate Benjamin Pwee acknowledged but questioned the cost behind the apology made by Prime Minister Lee Hsien Loong on behalf of the incumbent PAP government.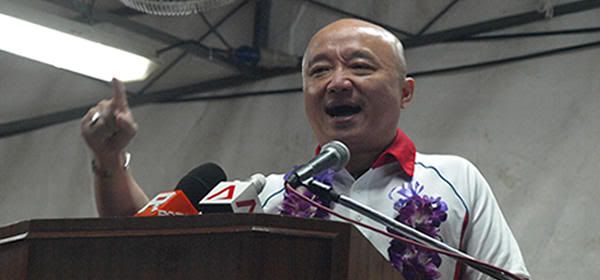 "For every wrong decision, for every not-so-perfect policy, for everything that they have said sorry for -- what was the cost in taxpayers' money that was lost because of that?" he asked in his speech.
Pwee also responded to PAP candidate and former classmate Josephine Teo, who asked if the SPP team standing in Bishan-Toa Payoh knew what its residents wanted, after she asked them on television if they were aware that its residents wanted 'stone ducks' to be placed around their estates.
In response, he cited an instance where a resident in the embattled GRC had written directly to the SPP, complaining about a situation of stray cats beneath her block and in her estate. He shared that he forwarded the request to their party volunteer who informed the cat lovers' society about the situation, and the society took care of the matter within a day, without harming any of the cats.
He said: "I would like to ask respectfully, Josephine, do you know about cats in Bishan-Toa Payoh?"
Turning his attention back to PM Lee's apology, Pwee said that there are many other things that needed to be apologised for at all levels of leadership, based on the stories he and his teammates had heard through the years.
"Do we want to wait every five years for a 'sorry' to be said? Do we want to wait every five years for the government to admit that the people are unhappy and that the policy needs improving?" he asked, to resounding "No!" from the crowd after each question.
He then urged the electorate to vote the opposition into Parliament, "so (the SPP) can keep them accountable at every parliamentary sitting, every month and every year for the next five years."
Article by :Jeanette Tan
Benjamin Pwee :
SPP's Lina Chiam :
GE 2011: After Chiam See Tong's last rally speech in Potong Pasir