Workers' Party unveils plans for Aljunied GRC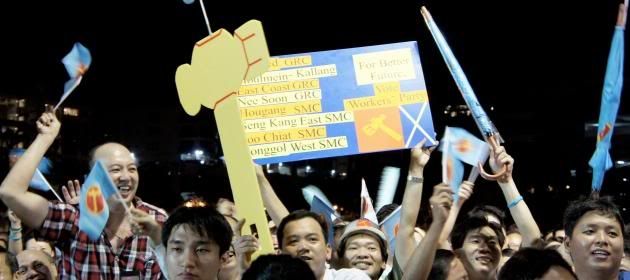 The Workers' Party (WP) team will seek to increase the number of private childcare centres in suitable HDB void decks in Aljunied GRC and review the condition of playgrounds and upgrade those that need it.
The party will also dialogue with residents on where estate connectors should be built, encourage more bottom-up initiatives and study the possibility of using renewable energy sources so that savings can be used in other ways.
WP secretary-general Low Thia Khiang focused the bulk of his English speech outlining these proposals and more at the party's Ubi Avenue 1 rally on Wednesday night, in what the appears to be the first time the party has publicly detailed its plans for the estate.
It is a move that Foreign minister George Yeo, who heads the People's Action Party's Aljunied GRC team, has been asking of the WP.
Low assured voters, just as the party has worked with voluntary welfare organisations to help the needy and elderly and kept an education trust fund for needy students in Hougang SMC, it will do so in Aljunied GRC as well.
When it comes to managing the town council finances, the party will "balance the books" and focus on "value for money" programmes, he added.
Low also listed five questions he would raise in Parliament for Singaporeans.
For instance, what concrete plans does the government have for students who have to take bank loans for their tertiary education and what are its plans for people who need medical treatment but have difficulty paying the out-of-pocket expenses.
Referring to Prime Minister Lee Hsien Loong's apology on Tuesday, Low said, "Do you think without strong opposition to challenge them in this election, you will get an apology?"
"If we don't have effective opposition in Parliament do you think they will continue to listen to you for the next five years?"
Other opposition candidates also touched on PM Lee's apology.
WP chairman and candidate for Aljunied GRC Sylvia Lim also focused her message on the Aljunied GRC voters.
"I would like to assure you, the Workers' Party already knows something about you, the Aljunied residents," she said, sharing how the party has reached out to residents over the last nine years.
Local concerns include a shortage of season carpark spaces in Serangoon North and Punggol and harassment from loan sharks in Paya Lebar and Punggol, while other concerns include the rising cost of living and accessing Central Provident Funds, she cited.
WP Aljunied GRC candidates responded to the Senior Minister Goh Chok Tong's comments that voting in the WP team could mean losing Foreign Minister George Yeo and potential Speaker of Parliament Zainul Abidin Rasheed.
Prime Minister Lee Hsien Loong said last month, he would appoint Zainul, a three-term Member of Parliament, as Speaker if he was re-elected.
But on Wednesday night, WP candidates Chen Show Mao and Muhamad Faisal Manap referred to Article 40 of the Constitution to show that the Speaker need not be elected from among MPs.
This means, the Senior Minister of State for Foreign Affairs could still be a Speaker even if he is not re-elected. In fact, the first Speaker of the Legislative Assembly, Sir George Oehlers, had not been elected, said Chen.
He said: "Vote the WP, so Mr Zainul can serve as Speaker and the WP can serve Aljunied residents as their MPs. This is a win-win proposition."
A total of 11 candidates spoke on Wednesday night. They continued to draw a strong crowd in spite of the soggy conditions at the open field near Ubi Avenue 1, due to an earlier downpour
Article by Alicia Wong
Pritam Singh :
Chen Show Mao :
Sylvia Lim :
Low Thia Khiang (Part 1) :
Low Thia Khiang (Part 2) :