A flagship store for Animal Kaiser game machines, AK Club @ E2Max is a unique space dedicated to Animal Kaiser fans. Fans form a physical community here, where they can interact, enjoy the game together, and have fulfilling exchanges on their experiences in the game.
Solely owned by GCA and operated by IAHGames, AK Club @ E2Max is the first and only club in Singapore established based on the Animal Kaiser brand. It is a 'home' for both parents and children to bond in a wholesome and fun-filled environment, and for friends of all ages to gather and take pleasure in the engaging game.
Opening Hours:
SUN to THU: 12 noon to 12 midnight,
FRI/SAT/Eve of PH & PH: 12 noon to 3am
A Compelling Setting Equipped with 8 Game Machines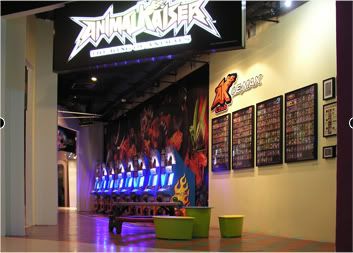 AK Club @ E2Max is specially decorated to bring out the excitement of the Animal Kaiser game. This is the only site in Singapore lined with 8 Animal Kaiser machines ?the largest fleet of Animal Kaiser machines at a single location. The club is decorated in line with the Animal Kaiser's brand image to induce the maximum effect of immersion and gameplay experience.
Monthly Tournaments
The Champions League Tournaments are held at AK Club @ E2Max to bring together families and friends as they come together to compete in the tournament against other teams. Interested contestants can find out more and register online for any upcoming tournament at the official site of Animal Kaiser Singapore.(http://www.ak.sg/)
source:http://www.gamescreditasia.com/animalkaiser/AKclub.html#tournament