I think I can say good bye to Angry Birds and start to welcome yet another craze in my home. Just like any other kids, my girls are riding in the Smurfs band wagon now but their obsession is not as bad as Angry Birds. Good ol' sporting granny has bought them each a nice Smurfs tee when she came to visit us last week.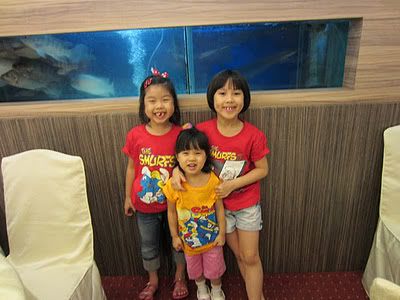 The Smurfs heat ain't that hot anyway. I can feel that it is slowly waning too. Alycia's biggest obsession now is Animal Kaiser cards as most of her school classmates and tuition class mates are hardcore fans of Animal Kaiser. Her obsession is driving me nuts as I don't like to see my almost 8-year old daughter drawing ugly creatures during her free time. She told me yesterday that one of her good friend from school (a boy) wants to visit her to exchange Animal Kaiser cards *rolling eyeballs*!
Do you have a kid who is also an Animal Kaiser fanatic too?
source:http://www.hellocotton.com posted on 5 Nov 2011 , My 3 Gals category.