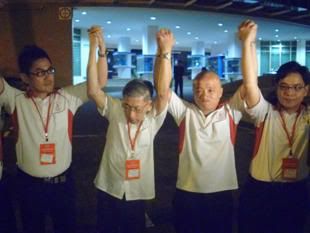 Hello SPP
Take it the lost in Potong Pasir as a blessing in disguise. Everyone in Singapore pay taxes so do the people in Potong Pasir. Let PAP do the upgrading work, improve the town etc. Take it back in 5 years time and say thank you for the work done. That's the only way to get all the fund and work done. You do not know who will have the last laugh in the next election. I believe the people in Potong Pasir is smart enough to go back to SPP again. Just carry on working hard, I believe you CAN! Enlarge your credible team and I have confident that you will win back Potong Pasir but also Toa Payoh- Bishan GRC.
~ Sim
Well wishes to Mr Chiam See Tong :
Thank you Mr Chiam See tong for being the opposition for Potong Pasir over the 27 years. Your courageous willpower to fight is well-admired by us, Singaporeans.
I, therefore, wish that you could be in the pink of health and stay happy with your family members.
Long live Mr Chiam, may god bless you.!
~ Singaporean